Vietnam for Digital Nomads
I had heard of many nomads who chose Ho Chi Minh City / Saigon as their base. Personally, I was a bit hesitant to go there because I'm not a big fan of big cities (except from Singapore, New York, and Rio de Janeiro). But then I saw a House Sit there and thought that this would be the perfect chance to check it out. I ended up staying 6 weeks and coming back a few times afterwards. It's still not my favorite country, I have to say. I prefer Singapore, Chiang Mai or Bali. But Vietnam is definitely worth trying out.
Facts About Vietnam
Vietnam is a long, narrow nation shaped like the letter s. It is in Southeast Asia on the eastern edge of the peninsula known as Indochina. Its neighbors include China to the north and Laos and Cambodia to the west. The South China Sea lies to the east and south. The mountains of the Annam Cordillera rise over most of the western side of Vietnam, while a thousand-mile (1,600-kilometer) coastline dominates the east.
Japan took control briefly during World War II, and when the war ended with Japan's defeat in 1945, Ho Chi Minh, the leader of the Vietnamese Communist Party, declared Vietnam an independent nation. French attempts to retake Vietnam led to war with the communist Vietnamese, called Viet Minh. Fighting ended in 1954 with the partition of the country into communist North and non-communist South Vietnam.
In 1973 a "third" Vietnam war began—a continuation, actually—between North and South Vietnam but without significant U.S. involvement. It ended with communist victory in April 1975.
Information About Entry and Departure
In order to enter Vietnam, you will need a valid passport with at least six months validity remaining and a Vietnamese visa, a visa exemption document, or a written approval letter for a visa upon arrival. You may obtain a visa or a visa exemption document from a Vietnamese embassy or consulate prior to traveling to Vietnam.
Some countries are allowed to stay visa-free for a certain amount of time. For Germany, it's 15 days. Check if your country of origin is one of them and you might be able to get into Vietnam without a visa. But bear in mind that you will then need a return ticket to prove that you will leave the country in time.
If you are planning to leave Vietnam and re-enter from another country, be sure that your visa is multiple entry. If it is only single entry, you will have to obtain another visa prior to returning to Vietnam.
Safety
Vietnam is a relatively safe country for visitors, including women travelling alone. In fact, given the country's recent history, many tourists, particularly Americans, are pleasantly surprised at the warm reception that foreign travellers receive. That said, petty crime is on the rise though in a small scale and shouldn't be a problem if you take precautions. Generally, the hassles you'll encounter will be coping with pushy vendors and beggars.
Money
The currency in Vietnam is called Dong (VND). One USD is approximately worth 23,000 VND.
Banks and airport money changers can change your money at a high cost, so it pays to ask around before trading dollars for dong. You're certain to find an ATM to withdraw from in any of Vietnam's major cities. Cash rules in Vietnam, though credit cards are accepted in many restaurants, hotels, and shops in Vietnam's big cities.
Internet and wifi is widely available throughout Vietnam. Something like 98% of hotels and guesthouses have wi-fi, only in very remote places (such as national parks) is it not standard. Wifi is almost always free of charge. Many cafes and restaurants also have (free) wifi. Connection speeds are normally good. Internet cafes are also available costing 3000d to 8000d per hour.
Vietnam's average internet connection speed clocked at only 5.1 megabits per second, ranking 64th globally and near the bottom in the Asia Pacific region.
A Vietnamese SIM card can be found anywhere on the streets on carts, at any phone shop, credit kiosk and at the airport on arrival. The most common networks are Viettel Mobile, MobiFone (my network) and Vinaphone.
It should cost no more than 100,000 VND (5 USD) for a prepaid SIM. Data packages also cost around 100,000 VND and give you enough Gigabyte to get by. During my last stay I got a promotion package for 100,000 VND, which gave me 6GB per day for 10 days. Just ask around and you will find the package for your needs.
Another possibility for mobile internet access is a MiFi device, which creates a WiFi network for you. I have tested the GlocalMe device and think it's a really useful addition of my travel equipment. You can either use it as an ordinary wireless router with up to two SIM cards (very useful if you work with mobile TANs, you want to be available on your local number or if you want to use the social networks with a 2-factor authentication) but you can also use it without a physical SIM card but with the built in cloudSIM technology (which is of course more expensive) in over 100 countries worldwide. Apart from that it's also a 6000 mAh powerbank, which is never bad to have with you.
Living in Vietnam as a Digital Nomad
If you are staying for a month or more, it's worth renting a house or (less common) apartment. It's much cheaper to look around when you arrive. Prices start from $300 a month, but you might get lucky and find somewhere cheaper.
Cyclos, or bicycle rickshaws, are available in many towns, though they've been banned in some more congested cities. Drivers have a tendency to ask for outrageous sums. Negotiate fiercely, and settle on a price for your destination before climbing aboard.
Xe om are motorbike taxis, which scoot around in many cities. As with the cyclos, negotiate and agree on a price before taking off.
Taxis are available in major cities, though drivers may be reluctant to use meters, and some meters are tampered with to rack up charges faster than they should. Because of taxi issues, particularly if you're exhausted after a long flight, you might want to consider booking an airport pick-up through either your hotel or a tour company.
The country boasts one of the most diverse, delicious and healthy gastronomies in the world. The main ingredients used in Vietnamese food are rice and its derivatives, fish sauce and vegetable. Thanks to Vietnam´s tropical climate, the long coast and the gigantic range of mountain, Vietnam is blessed with numerous varieties of plants.
I was quite happy with my membership at The Hive in District 2. They not only have a beautiful and cozy space with a rooftop to chill on at sunset or whenever you need a break, but they also have a great community that immediately made me feel welcome. 
HanoiHub has two locations: one at Lang Ha Street and the other one at Huynh Thuc Khang Street. It's spacious, but still cosy with yellow and red interiors. They have so called "energetic zones" and quiet areas to choose depending on your needs when working.
.
the HUB is a co-working space in Da Nang creating a community for businesses and nomads in Da Nang. If you want to work in a space where you have everything you need and also a creative environment of like-minded people, the Hub might be the best place for you. 
Blog Posts About Vietnam
I published a few blog posts about places I have visited in Vietnam: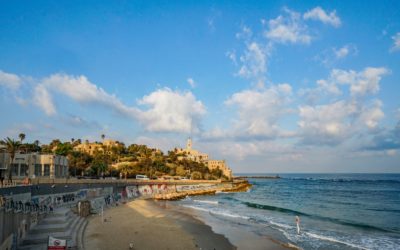 Israel lies on the Mediterranean Sea and borders Jordan, Syria, Lebanon, the West Bank, and Gaza. It was proclaimed a representative democracy in 1948. Geographically it belongs to the Middle East, while geologically it is still part of Africa. There are...
20 important words/sentences in Vietnamese:
Hello

Xin chao

Yes

Vang

No

Khong

Thank you!

Cam o'n

!
Please

Xin vui long

Excuse me…
Xin loi
Where is …?

O' dau

….?
My name is …?

Toi ten la

….?
I don't speak Vietnamese

Toi khong noi duoc tieng viet

.
Do you speak English?

Ban co noi tieng anh khong

?
I'm German.

Toi den tu duc

.
Could you help me?

Ban co the giup toi

?
I need …

Toi can

….
Hungry

Doi bung

Thirsty

Khat

Water

Nuoc

How much is this?

Cai nay bao nhieu

?
Beach

Bai bien

Mall

Trung tam mua sam

Hospital

Benh vien
The Numbers in Vietnamese
| | |
| --- | --- |
| 1 | mot |
| 2 | hai |
| 3 | ba |
| 4 | bon |
| 5 | go |
| 6 | nam |
| 7 | sau |
| 8 | tam |
| 9 | chin |
| 10 | muoi |
| 11 | muoi mot |
| 12 | muoi hai |
| 13 | muoi ba |
| 14 | muoi bon |
| 15 | muoi lam |
| | |
| --- | --- |
| 16 | muoi sau |
| 17 | muoi bay |
| 18 | muoi tam |
| 19 | muoi chin |
| 20 | hai muoi |
| 30 | ba muoi |
| 40 | bon muoi |
| 50 | nam muoi |
| 60 | sau muoi |
| 70 | bay muoi |
| 80 | tam muoi |
| 90 | chin muoi |
| 100 | mot tram |
| 1.000 | mot ngan |
| 1.000.000 | mot trieu |
The Saigon Guide for Digital Nomads
Subscribe to my newsletter so I can keep you posted about my life of travels and as a digital nomad! You will never miss a new blog post, a new ebook or where my next adventure is going to bring us. Because it's never going to be boring!