Facts About the UAE
In recent years, the United Arab Emirates have experienced a new boom after the first one at the time of oil discovery in its territories. The new boom is represented by the remarkable economic growth that affected the pan-economic sectors of the country and helped to set up free zones in the different emirates.
The geographic nature of the state has significantly contributed in enhancing the state's economy in terms of entry and exit, and this naturally encouraged the re-export process and boosted the position of some of the Emirates, which are now considered a transit route for various goods, and this has activated the navy and airports in the country as well as it has encouraged many international companies to take Emirates as a regional base, raising the proportion of the issuance of professional or business licenses.
UAE is also known for the palm-shaped islands, beautiful beaches, huge shopping malls, and cultural and sports hub. Aside from the rich natural deposits, the UAE feature well-developed architecture, and infrastructure. Also, the federation offers a promising economy.
Information About Entry and Departure
Depending on your nationality, you can either get a visa on arrival or have to apply to get a visa. You can check at Visit Dubai what category your nationality is in.
Nationals and residents in the UAE can apply online and acquire 90-day /30-day UAE entry permits or visit visas for their families, friends, and relatives through the Ministry's website- eServices section
If you are a national citizen of one of the GCC countries, you don't need a visa or a sponsor to visit the UAE. However, foreigners accompanying the GCC nationals, or GCC expatriate residents must obtain an online visa upfront before arriving to the UAE.
Safety
Generally, the United Arab Emirates are rather safe for expats, tourists, and travelers. The crime rate is very low and both men and women can move in public with little difficulty. Still, there are some things to keep in mind when you move to Abu Dhabi or Dubai or decide to travel around the country, in order to stay safe. Scams are quite common. Some of them are just specific ways of begging for money others are directed to getting your credit card or phone.
Money
UAE's official currency is the Emirati Dirham. The notes in circulation are Dhs 5, 10, 20, 50, 100, 200, 500 and 1,000. Be warned that the brown Dhs1,000 note looks a lot like Dhs200. Generally, it's good to carry Dhs100 notes and lower values for day-to-day transactions.
Banks are the best places to change foreign currency and traveller's cheques into dirhams, however, are the numerous exchanges found in malls.
Major international credit and debit cards are accepted in large shops, restaurants, and hotels. When shopping in souks, it's better to bargain for the 'best price' with cash.
The average download speed in UAE is roughly 13.43 Mbps, while the average upload speed is 3.64 Mbps.
For an average user who consumes about 5GB data in a month, both Etisalat and Du offer plans for around Dh200 per month making it Dh40 per 1GB data. However, for someone who only consumes 1GB data per month, you will end up paying Dh100 on both carriers.
The Du Visitor Mobile Line (VML) is a prepaid mobile line specially designed for tourists or business travelers visiting the UAE. It gives all the benefits of a mobile line, allowing you to stay in touch with your friends and relatives in the UAE or abroad.
The Visitor Mobile Line costs Dhs 35 (approx. $9.54) and is loaded with 20 flexible minutes (national or international), 20 flexible SMS (national or international) and 200 MB of data. All benefits are valid 7 days from the time of line activation and minutes used to make international calls are applicable for 175 destinations.
Another option is the Etisalat visitor line gives you instant connectivity, rich pack selection, hassle free experience and access to the widest 3G & 4G network in the UAE. For just Dhs 100, get started with the Visitor Line and subscribe to any one of the below packs, with which you can talk, surf and text as you need.
The Visitor line is valid for 90 days and it can be extended for 90 more days for Dhs10. The Visitor Line packs are valid for 14 days and can be re-purchased for Dhs 75.
Another possibility for mobile internet access is a MiFi device, which creates a WiFi network for you. I have tested the GlocalMe device and think it's a really useful addition of my travel equipment. You can either use it as an ordinary wireless router with up to two SIM cards (very useful if you work with mobile TANs, you want to be available on your local number or if you want to use the social networks with a 2-factor authentication) but you can also use it without a physical SIM card but with the built in cloudSIM technology (which is of course more expensive) in over 100 countries worldwide. Apart from that it's also a 6000 mAh powerbank, which is never bad to have with you.
Living in the UAE as a Digital Nomad
As the UAE collects only 5% VAT, some purchases, such as electronic goods, can be very affordable. Also, the associated import tax is relatively low. The same goes for regional, everyday products such as groceries. These also tend to be of a very high quality.
On the other hand, other things may be a bit more expensive, especially everyday products which need to be imported. This goes especially for products of well-known brands. Designer clothes can be very expensive in the United Arab Emirates, even more so than elsewhere.
Average monthly rent in a decent area costs around 6,170 (1,679.75 USD) Dirham while 8,173 (2,225 USD) in a higher-end neighborhood.
The most popular mode of public transportation in the UAE is the taxi. While buses not only operate within each individual Emirate, you can also travel between the different Emirates by bus.
With its iconic skylines of high-rises and world famous beach resorts, the United Arab Emirates has become a favorite for family holidays and city breaks. Landmark tourist attractions such as Dubai's towering Burj Khalifa and Abu Dhabi's modern Sheikh Zayed Mosque, have branded the UAE as an up-to-the-minute luxury destination.
The Bureau Dubai: The Bureau Dubai is a Co-Working space located in Souk Al Bahar Downtown Dubai. They offer a complete one stop solution to setting up a company in Dubai by either sponsoring or partnering with you, obtaining a license and all within their trendy furnished offices and facilities on affordable payment terms.
NEST Dubai: NEST is one of the world's first fully integrated co-working spaces within a worldwide branded hotel. The space is designed to fit the needs of the modern worker and offers a comfortable and flexible workspace that inspires and supports the need for networking and productivity. NEST perfectly pairs business and hospitality to enhance the workplace experience.
Blog Posts About The UAE
I spent three weeks in Dubai doing house sitting, a day in Abu Dhabi visiting the Grand Mosque and three days in the northernmost Emirate RAK.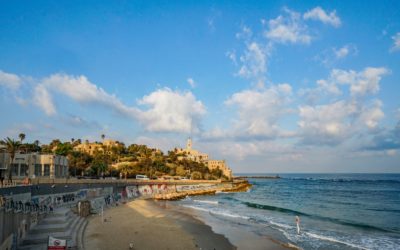 Israel lies on the Mediterranean Sea and borders Jordan, Syria, Lebanon, the West Bank, and Gaza. It was proclaimed a representative democracy in 1948. Geographically it belongs to the Middle East, while geologically it is still part of Africa. There are...
20 important words/sentences in Arabic:
| | |
| --- | --- |
| Hello | marhabaan |
| Yes | nem fielaan |
| No | la |
| Thank you! | shakar! |
| Please | raja' |
| Excuse me… | efu… |
| Where is …? | 'ayn hu….? |
| My name is …? | aismi hu….? |
| I don't speak Arabic | 'ana la 'atahadath alearabia |
| Do you speak English? | hal tatahaddath al enklezyia? |
I'm German.

'ana min 'almania

Could you help me?

hal yumkinuk musaeadatay?

I need …

aihtaj

….
Hungry

jawean

Thirsty

mutaeatish

Water

ma'an

How much is this?

kam thaman hadha?

Beach

shati bahr

Mall

majmae tijariin

Hospital

mustashfaa
| | |
| --- | --- |
| 1 | wahid |
| 2 | ithnan |
| 3 | thalatha |
| 4 | arba'a |
| 5 | khamsa |
| 6 | sitta |
| 7 | sab'a |
| 8 | thamaniya |
| 9 | tis'a |
| 10 | 'ashra |
| 11 | ahada 'ashar |
| 12 | ithna 'ashar |
| 13 | thalatha 'ashar |
| 14 | arba'a 'ashar |
| 15 | khamsa 'ashar |
| | |
| --- | --- |
| 16 | sitta 'ashar |
| 17 | sab'a 'ashar |
| 18 | thamaniya 'ashar |
| 19 | tis'a 'ashar |
| 20 | 'ishrun |
| 30 | thalathun |
| 40 | arba'un |
| 50 | khamsun |
| 60 | sittun |
| 70 | sab'un |
| 80 | thamanun |
| 90 | tis'un |
| 100 | mi'a |
| 1.000 | alf |
| 1.000.000 | million |
The Dubai Guide for Digital Nomads
Subscribe to my newsletter so I can keep you posted about my life of travels and as a digital nomad! You will never miss a new blog post, a new ebook or where my next adventure is going to bring us. Because it's never going to be boring!