So What is a Digital Nomad?
The sad truth is that many people are not fulfilled with their jobs or they're stuck in a rut. One's income plays a small role in that problem, but also living in one location for your entire life will do that to you. And the everyday hustle usually becomes too much to cope up with when stress and problems begin piling up on top of that.
The beauty that attracts most to the digital nomad life is the ability to live in exotic destinations like white sand beaches, global cities full of energy, and such places that have a lower cost of living but altogether a higher quality of life. But it's not just about the cheaper costs for most, it's about the new experiences and relationships created while moving from country to country.
Now, let me tell you the 3 steps to start as a digital nomad!
#1 Find Ways to Generate Income Online!
First, figure out what you're good at, what your passions are, and what it is you could do online. You'll need to find a way to make some money, but also you'll want to rely on a steady income.
Make a list of your talents. Also, write down what you would like to do professionally. Then, try to find a way to make these things online.
If you decide to start freelancing, you can use sites like Fiverr, Upwork, and other sites to generate some income. You could also teach online by doing 1-on-1 classes or creating online courses, and of course find possibilities to generate affiliate income, or write ebooks to help you generate some passive income as well in the long run.
There are one million ways to make money online. You just need to find what's working best for you.
#2 Save Money!
Especially, when you are only starting a nomad lifestyle, you are most likely going to spend more money than you earn. You want to travel everywhere, see a lot of places and might find it hard to get a job along the way. I get it. It's tempting to be more of a tourist and traveler in the beginning and less of a nomad. That's normal. But you should be prepared for that and make sure you have enough savings before you leave to survive for a while, even without a proper income.
The first thing I did was cutting off all expenses that I had that weren't necessary anymore. Do you have any subscriptions? A membership at the gym? Do you really need that car? Is there something you could sell? As a nomad, you won't need all this stuff that has been waiting to be used for the last months or even years. So, sell it!
Then think about the expenses you will have on the road. Also, don't forget to add any expenses before you leave, like plane tickets, travel insurance, maybe a new laptop or backpack. Make a list early on so you still have time to save some money.
The type of expenses will probably be very similar to the expenses you have right now. Although the amount may be very different from what you're used to. Let's say you choose to start in the nomad hub Chiang Mai. There, you will be able to save a lot of money while living at a relatively high standard. You can calculate to cover expenses for:
Rental cost for an apartment or room

Food and groceries

Utilities such as electricity, gas, and water

Telephone, internet access costs

Public transport costs

Personal care

Eating out/going out

Local travel

Coworking space
To find out how much other nomads pay in a specific location check out NomadList.
I always recommend people to save enough money to get by without any income for at least 6 months. If you can manage: 12 months are much better. So, pick your destination(s), plan a route, and calculate how much money you will probably need. I, for example, planned to spend around 1,000 Euro per month and left with 7,000 Euro in my bank account. It worked out perfectly for me. Do the math and go to step 3.
First, you want some more tips about saving money and traveling low cost? Check our my blog post: Low Budget Traveling for Pros!
 Travel Longer for Less Money!
You need a lot of money to travel the world? Wrong! Traveling on a Low Budget is a guide to help low budget travelers. I will tell you all my tricks to save money on the road…
for transportation
for housing
for food
for your leisure time (sightseeing etc.)
I did a trip around the world with 8.000 Euro including all flights. With my tips, you can do it, too! Be prepared for what is waiting for you and plan your trip better.
#3 Take Massive Action!
Now that you know how to make money online and already saved enough to hit the road, there's only one more thing left you need to do: book that flight! Don't forget to pack your bags and just go! Of course, there are likely to be many challenges after you start your journey, but don't worry too much about them right now. You will figure out how to handle them the moment they arise.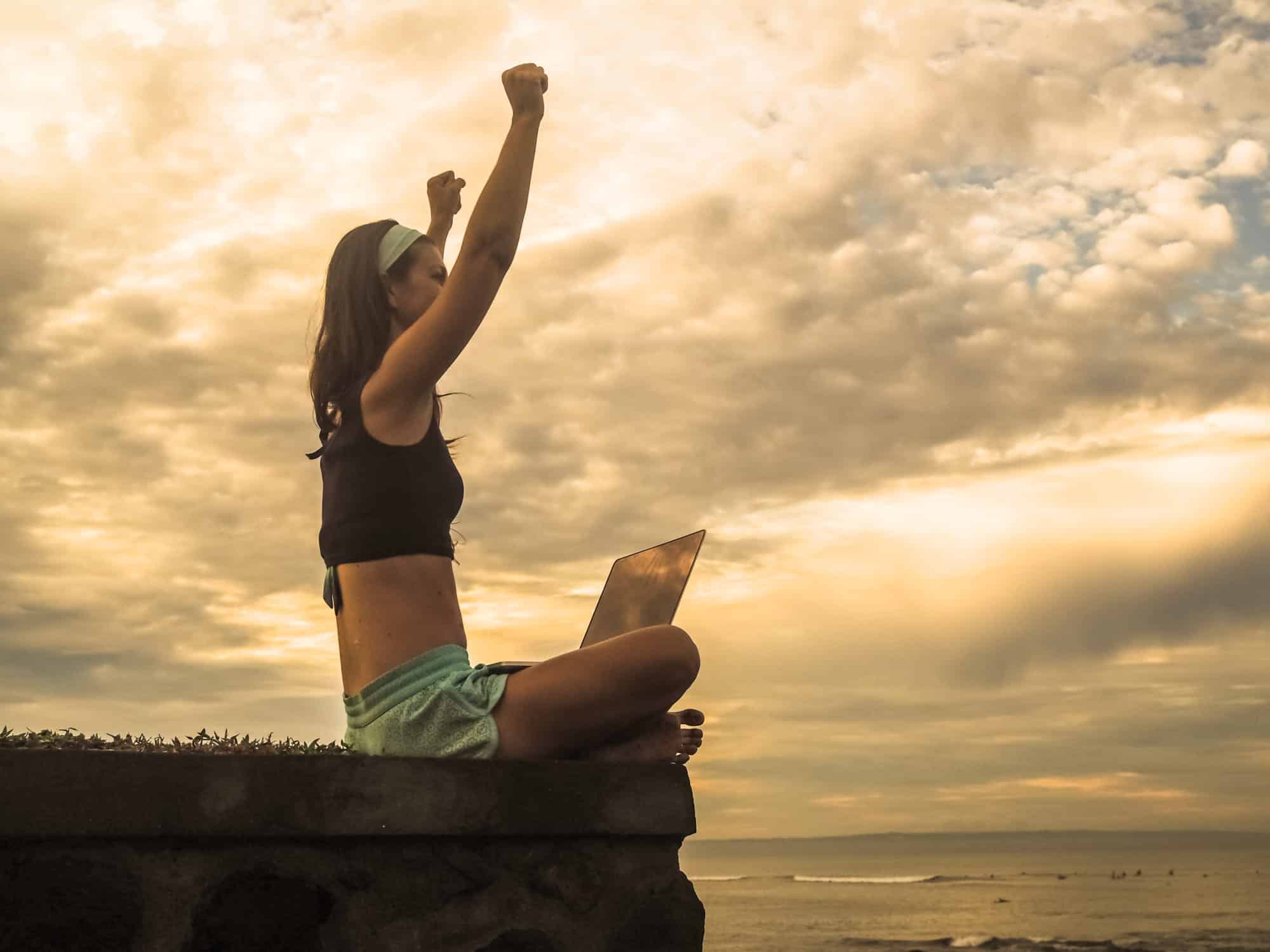 The beauty of this journey is that you're taking your life in a conscious direction and I think that is something that we should all do regardless of whether we want to travel or not.
Final Thoughts
I hope this post has helped you gain a better picture of the possibilities of becoming a digital nomad. Living this lifestyle can be a truly rewarding experience, and you can get set up way faster than you might have thought.
If you really want to work and travel at the same time the most important thing right now is to take massive action and start preparing yourself for the transition. If you take one step at a time and always keep in mind that your ultimate goal should be to not just become a digital nomad but to create a foolproof passive income so you can return home anytime you want.